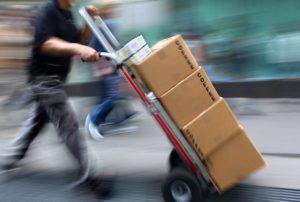 TIRATRANS 2000 LLC numbers more than 20 years of its history. In 1990 a young entrepreneur from Cadiz, Javier Tirado, began his career with his project of home purchase delivery in his native city of Cadiz. Having a few motor vehicles and limited human resources, but with a great professionalism, and owing to his persistence and devotion to the job during these two decades, he managed to create a strong, competitive company, well established at the hard transportation market of Andalucía.
At present the company disposes of a modern fleet of 40 motor vehicles constantly renovated, of different sizes and engine types to satisfy the demand of all the commercial clients. One of the most valuable assets is a team of more than 60 employees who follow the corporate philosophy of TIRATRANS 2000 LLC based on quality, security, confidence and delivery speed, and always with the best treatment of any particular customer. They are absolute professionals who know that their work is of vital importance.
TIRATRANS 2000 LLC realizes its service in the southern part of the Peninsula, in the provinces of Cadiz, Seville and Malaga, both in the capitals and in the other towns of importance in there. and the company has at its disposal all the facilities to manage different delivery teams working all around the Southern part of Andalucía.
The extensive list of the TIRATRANS 2000 LLC clients includes the main brands of distribution, the multinational giants together with the regional companies and small local stores, all of them forming a part of a long working history and a great experience of our company. The main objective of TIRATRANS 2000 LLC consists in realizing the delivery service all around Andalucía, being an example of quality and professionalism, providing stable workplaces for more people every year, ensuring the security, efficiency and confidence to all its clients.